I wanted to post something more positive after having to post after Roger's loss to Djokovic at Dubai. It was a very bad loss, but it's not all doom and gloom. In terms of rankings Roger actually gained 300 points on Djokovic. I'm not sure when these points will be added yet but nevertheless it will be added. Lets not forget how badly Roger lost to Murray in Shanghai last year either just to come back and win three out of four tournaments, including the Masters Cup where he had no problems disposing of the world's top four. In hindsight, losses like today is part of Roger's tennis these days. He is not going to be as dominant as he once was. We have to look at the positives these days, and one such positive is that Roger can still be ranked number one after Wimbledon this year and break Sampras' consecutive weeks at number one record.
Things are rarely as doom and gloom as it seems right after a tough loss. The amount of points Roger, Nadal, and Djokovic has to defend until after Wimbledon from here on is as follows:
Roger – 1615
Djokovic – 1720
Nadal – 7720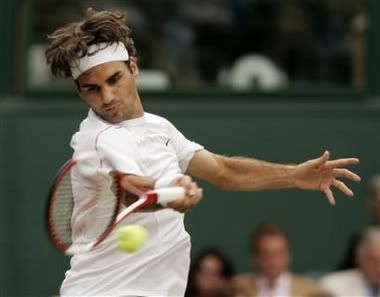 Roger's points from last year comes from the following events:
Indian Wells- 45
Miami- 90
Rome- 10
Madrid- 600
RG- 360
Halle- 150
Wimbledon- 360
Nadal has a point cushion of about 4400 at the top, but it will be hard for him to defend all his points. I heard he is playing Barcelona which will make him physically tired and possibly make him burn out again. I just don't know how he can win Monte Carlo, Rome, Madrid, and the French Open again, while playing Barcelona as well. Then there is also the points from Miami, Indian Wells, and Wimbledon of course. For some reason I just feel like Nadal is gonna slip up somewhere. Djokovic has as good a chance as anyone to get to number one if he keeps up his recent good form, but perhaps he isn't as good on grass and clay as he is on hard. But surely Roger will gain a lot of points from now until Wimbledon, starting at Indian Wells and Miami where he can gain a lot of points. Roger has been very consistent against players other than his top rivals of late so you would think that he can make semi-final levels at these events at least.
If Roger gets the number one ranking back it will be a big boost to his confidence and yet another important record could be crushed under his weight. Lets not make too much of this loss today. For all we know Roger will have a good summer and do well in the French Open and Wimbledon especially where he will be a big favorite. A seventh Wimbledon crown would be the ultimate…